Have you ever shared your opinion online, only to be met with a wave of negative comments on your post?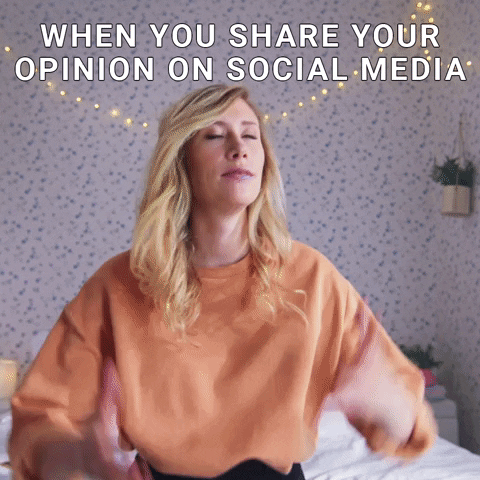 Have you posted an online review, only to have the business owner respond, dismissing your concerns? Do your friends tease you about being the type of person who always wants to speak to the manager?
In contrast, are you someone who doesn't usually speak up because you're scared of how people might react to your opinions? Do you tend to keep quiet when your friends or family members are having a debate, although you have many ideas of your own: either because you don't like confrontation, or just don't want to get into it?
Whether you're comfortable sharing your opinion with others or not, all these situations have something in common: whether you share your opinion is influenced by who will hear it, which may impact how you frame your thoughts. In some cases, it may prevent you from being completely honest, resulting in you feeling unheard (which is not a great feeling for anyone!).
On LEO, it's just your opinion, but it remains confidential. What does this mean for you?
When you participate in our surveys, you can be assured of the following:
We will not make your Personal Information available to anyone without your knowledge and consent unless it is required by law (as described in our privacy policy). This includes your name, address, phone number and e-mail address.
We will never try to sell you anything and we will never sell your name to anyone. That is not our business. We are not telemarketers or direct marketers. We are market researchers interested only in your opinions.
Occasionally, we may recontact you to validate your responses. We will never misrepresent ourselves or what we are doing.
Your decisions about participating in a study, responding to specific questions, or discontinuing participation will be respected without question.
Our entire Privacy Policy is public, and you can view it by clicking here.
Sometimes, if you're completing a survey about a particular company (such as one you've done business with in the past), we'll ask whether you would like the company to follow up with you (about a question you have, an issue you'd like them to address, etc.). In these cases, we will ask for the information the company can use to contact you, and your explicit agreement to share this information with them. If you don't provide consent, we won't provide your information. Period.
For us, it's simple: if we ask you to tell us how you really feel, we need to protect your privacy!
We understand that your opinions change your world, and to ensure you feel comfortable expressing them as candidly as possible, we must keep them confidential.
When you respond to LEO surveys, we want to know your honest opinions, regardless of how positive or negative they are: we genuinely want to know how you REALLY feel. Your opinions have the potential to change product and service offerings, to influence government decisions, and more, so make sure that your voice is heard clearly by sharing your honest, open, feedback!
If you have any questions about how we protect your Personal Information, you can email our Privacy Officer (privacyofficer@leger360.com) or the LEO Support Team (support@legeropinion.com).
Interested in reading our other articles to learn more about LEO?
Check them out here!
This post is also available in: Français