Advent calendars are a fun way to count down the days left until Christmas, and they're not just for kids anymore! All sorts are available: you can choose one with tea, beauty products, beers, or even sparkling wine, depending on your interests!
Do you currently have an advent calendar? If you don't, not to worry: LEO is running an advent calendar contest!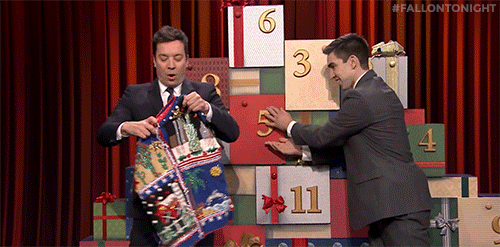 How does the Advent Calendar Contest work?
To share the holiday spirit with our members, LEO will be conducting a special advent calendar contest from December 1 to December 24!
Every day from December 1 to 24, 2019, two lucky LEO members will each win one e-gift card worth $25 (except for on December 24, when the e-gift cards will be worth $100 each)!
Curious about which e-gift cards we'll be drawing for?
Find out below!
Advent Calendar Contest Prizes (E-Gift Cards)
December 1: Hudson's Bay and Starbucks
December 2: Cineplex and Tim Hortons
December 3: Starbucks and The Ultimate Dining Card
December 4: WaySpa and Best Buy
December 5: Hudson's Bay and DAVIDsTEA
December 6: Cineplex and Starbucks
December 7: WaySpa and Hudson's Bay
December 8: Tim Hortons and The Ultimate Dining Card
December 9: Best Buy and DAVIDsTEA
December 10: Cineplex and The Ultimate Dining Card
December 11: WaySpa and Tim Hortons
December 12: Starbucks and DAVIDsTEA
December 13: Hudson's Bay and Best Buy
December 14: Cineplex and WaySpa
December 15: The Ultimate Dining Card and DAVIDsTEA
December 16: Starbucks and Tim Hortons
December 17: Cineplex and Best Buy
December 18: The Ultimate Dining Card and Hudson's Bay
December 19: DAVIDsTEA and WaySpa
December 20: Starbucks and Best Buy
December 21: Cineplex and Hudson's Bay
December 22: The Ultimate Dining Card and Best Buy
December 23: Tim Hortons and DAVIDsTEA
December 24: The Ultimate Dining Card and WaySpa
How can I participate?
To participate in this contest, you must be a member of the LEO community and reside in Canada. CLICK HERE TO REGISTER NOW!
You must complete at least one survey in December to be eligible for the contest. No action is required on your part- when you complete a survey in December, we'll enter your name into our draw automatically!
Don't forget to take a look at our Facebook and Instagram and let your friends know about the contest so they can participate too: the more the merrier!
Please review the full Terms and Conditions for the contest here.
Do you have questions?
We have answers! Please contact the LEO Team at support@legeropinion.com if you have any questions about this contest.
GIF Credits: Giphy
This post is also available in: Français